Ratcliff Selected as Indigenous Law Elite Boutique by The Legal 500
New ranking category highlights the firm's distinct approach to representation of Indigenous peoples
On November 9, 2022, The Legal 500, an international ranking body of the world's top law firms and legal practitioners, released their 2023 edition of  The Legal 500 Canada. In the category of Indigenous Law, Ratcliff LLP was recognized for continued, top-tier legal service and ranked as Elite Boutique.
The category of Elite Boutique is new for the 2023 edition to distinguish smaller firms that achieve innovative and noteworthy results in their areas of expertise.
Our firm is grateful for this remarkable recognition as it strengthens our resolve to continue our work in Aboriginal rights and title, treaty consultation and implementation, Indigenous rights recognition and UNDRIP, Indigenous governance, Indigenous economic development, land use, natural resources, environment, employment, and more.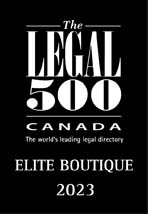 Ratcliff Partner and Indigenous Practice Group Lead, Maegen Giltrow KC received a notable mention for her groundbreaking contributions to Aboriginal and Indigenous law as lead counsel in the precedent setting cases of Yahey (Blueberry River First Nations) v. BC, and Thomas (Saikuz and Stellat'en) v. Rio Tinto et al., before the BC Supreme Court.
We thank all our clients, peers, and colleagues whose hard work and positive feedback has contributed to this acknowledgement.