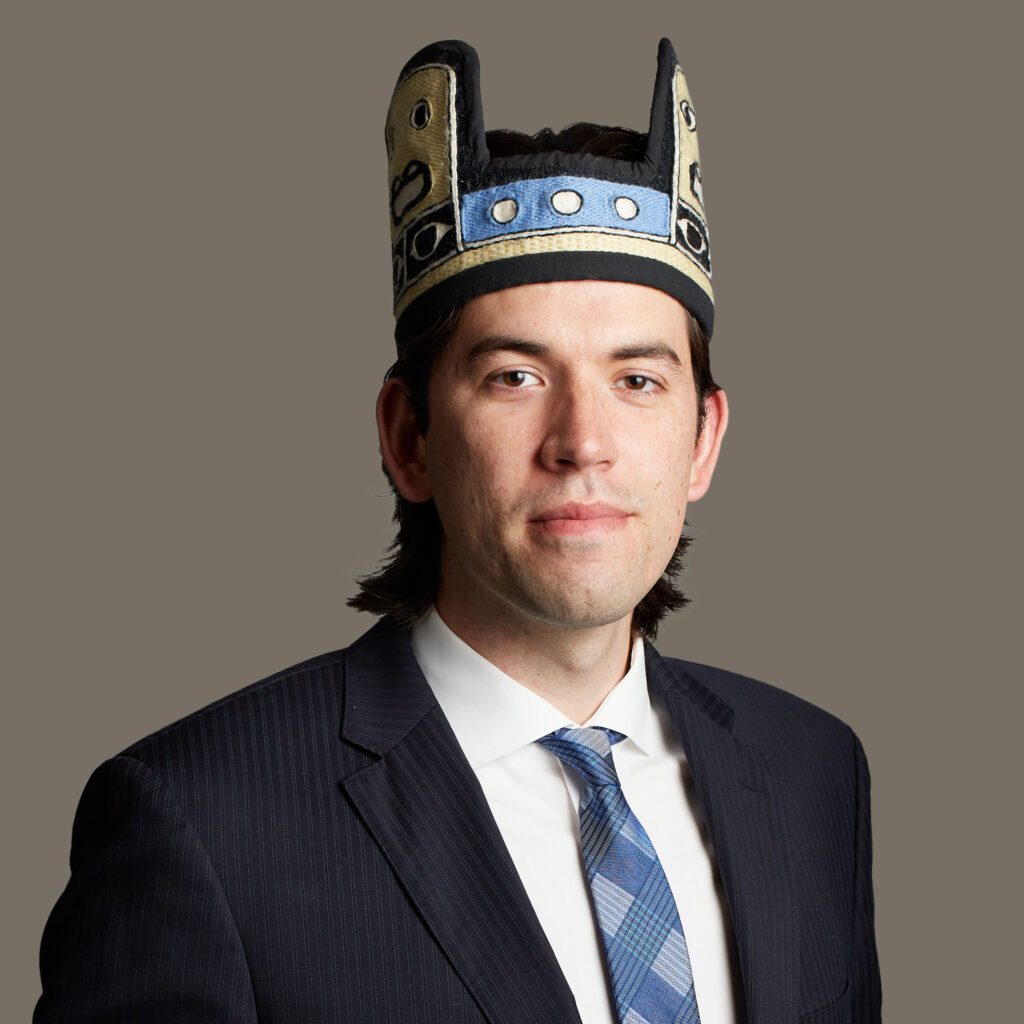 Jeff's practice focuses on litigation, negotiation and law & policy development. He provides support on a wide range of files that come before courts in British Columbia, Saskatchewan, Ontario, the Federal Courts, and administrative tribunals.
Jeff advises on:
Land and resource issues
Aboriginal rights and title
Matters under the Indian Act
First Nation governance issues
Indigenous legal traditions
Jeff is a proud member of the Lax Kw'alaams First Nation. Outside the practice of law, he is an avid birder, and photographer.
The Chilkat regalia in the photo above was woven by Tsamiianbaan – William White a master weaver from Lax Kw'alaams and depicts a Grizzly Bear, in particular, its ears
---
News, Publications & Presentations
Feature Interview, "Lawyer Jeff Nicholls on launching Indigenous law and history educational course Home on Native Land," Canadian Lawyer, March 2023
Author, Indigenous Input Shapes a New Legal Landscape, Mákook pi Sélim, Spring 2022
Guest Lecturer, "Indigenous Law: Opportunities in Practice," UVic Faculty of Law, Joint Degree Program in Canadian Common Law and Indigenous Legal Orders (JD/JID) – Legal Research and Writing Supplemental Course, Law 112I, March 2022
Feature Interview, "Birds & Indigenous Knowledge (Respecting Aboriginal Values & Environmental Needs)," Wingspan Magazine, Summer 2021
Awards & Accolades
Recognized in 2022 as one of the 500 most influential business leaders in British Columbia (Law, Indigenous Law) by Business In Vancouver BC500.
Law Foundation of BC: Public Interest Award, 2017
In The Community
President, RAVEN Trust
Member, Indigenous Bar Association
Education
J.D., 2018, University of Victoria
B.A. (Hons.) with distinction, 2015, University of Victoria